Appeal Theatre Group Chairman 1974-2002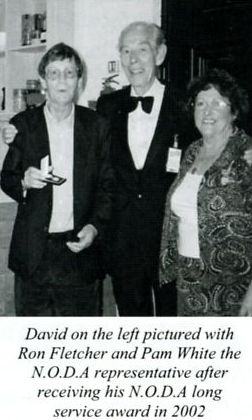 In 1973 David had one of his typical bursts of inspiration and decided, why not form a theatre group, stage a musical and donate profits to local charities. With the aid of a small band of enthusiasts it was agreed. The show just had to be The Boyfriend. David obtained a sponsor and booked the Ipswich theatre. As to a name for the group, again it just had to be The Appeal Theatre Group. So in June 1974 the show opened for a two week run and played successfully to packed audiences. David, unlike me, loved to tread the boards and he took on the role of Lord Brockhurst. Having tasted success the next production was decided upon almost before The Boyfriend was over. Over the coming years David devoted his energy and enthusiasm to the business of group chairman, obtaining sponsors, booking shows and, with the help of his fellow founder members tied up the thousand and one details which would bring success. In researching through old programmes I found that David took an active on-stage part in 16 productions, the parts played were, to say the least, varied. They included Dizzy David in Music Hall, Dr Lu Fong in Flower Drum Song, Mr Vandergelder in Dolly, suspicious characters in many shows and Nathan Detroit in Guys & Dolls.
In 1980 the Wolsey Theatre opened and David negotiated our appearance in their first season. So with our production of Sweet Charity David achieved yet another first for the group. David took the unlikely role of Man with Dog (Scruffy). David successfully negotiated our return to the Wolsey every year until it's closure in 1999 just 3 weeks before our opening night of Kiss me Kate. With the theatre closed David immediately booked the Riverside, Woodbridge for our 2000 production of Charlie Girl. David was a well known and respected member of the Ipswich business community and was always ready to help and support local projects. When we first arrived in Suffolk it was David who made us welcome and he also injected me with his love of the theatre. Little did I realise, when we first met in 1968, that I would be writing a tribute to him. A gentleman, theatre lover and above all a very good friend.
D J U you will be missed; the end of an era. One thing I do know and that is you will be looking down and willing us to make a good profit for yet another worthy charity.
Ron Fletcher (Fletch)